Vice-Chair
Retired CEO, Director, Investor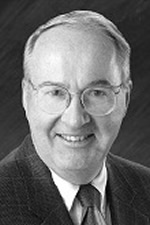 J. Kermit Campbell, 74, is the former Chairman, President and Chief Executive Officer of Herman Miller, Inc., a designer and manufacturer of office furniture. Since leaving Herman Miller, Inc. in 1995, Mr. Campbell has invested in a number of ventures, including United Power Line Contractors, Bering Truck Corporation, Black Star Farms, Advanced Information Systems, United Shield International, PassAlong Networks and CORE Energy Co. Mr. Campbell is a director of Traverse City State Bank, an honorary Trustee and past Chairman of the Board of Hope College, a Trustee of the Northwestern Michigan College Foundation, a Trustee of Eagle Village and a Charitable Trustee and President of Traverse Symphony Orchestra.
Mr. Campbell has also been Chairman of Bering Truck Corporation and a director of Irwin Union Bank, Tennessee Pacific, and PassAlong Networks. Mr. Campbell has been a director of SPX since 1993. Mr. Campbell is our longest-serving Board member. Since 1993, Mr. Campbell has consistently applied the operational, financial, and strategic experience garnered from his career, as well as involvement in a number of other business interests. In addition to the qualifications, attributes and skills Mr. Campbell initially brought to our Board, he now offers the perspective, institutional knowledge, and deep understanding of our business accumulated over his 20 years on our Board.
Source: SPX Corporation on 03/21/2013